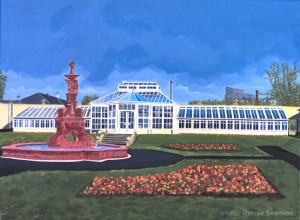 This project involved photographing a series of commissioned paintings by artist Lynne Blundell, then producing a series of limited edition fine art prints at different sizes, some of which were to be framed, some mounted and some provided as unmounted prints.
The paintings are beautifully done, very realistic and contain a lot of detail, especially in the reflections in the panes of glass of the orangery for example. The artist stayed in my studio throughout the shoot so she could see how I worked and to check the colours. Afterwards, in post processing, I sent proofs so she could check them again before printing.
For the prints, I provided some samples so she could feel the quality of paper and decide how she wanted the images to appear. We chose Hahnemuhle Photo Rag which is a lovely smooth, matte fine art paper which really did her paintings justice. The detail of the brush strokes and the grain of the canvas could be seen in the texture of the print. Paper choice I believe, is such an important element of presentation and needs to not just look right but feel right as well.