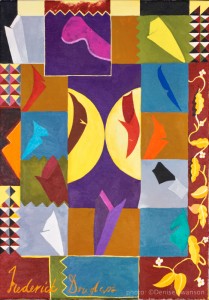 This was another project that required photographing the original paintings, this time so that images could be supplied in various formats to a publisher for a forthcoming book featuring the artists' work. One of the images was to be the cover of that book.
Due to the nature of the artworks and the importance of the colours used, it was essential that these were accurately reproduced. Photographing fine art is not just about capturing detail it is also necessary it is to have a fully colour managed workflow along with properly calibrated cameras and monitors.
I always enjoy when artists like to be part of the process and this project was no exception. The artist was present in my studio whilst I captured each of the paintings and then during post processing, so we could ensure colours were exactly right by viewing on my calibrated screen with the original artwork alongside.
Once the images were finalised, I supplied the publishers with the files which included the right colour profiles, to ensure final print output would portray them as accurately as possible.