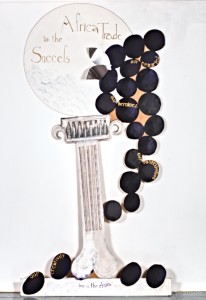 Photographing an eight-foot tall cut-out painted artwork is not the easiest thing to do. When it is mostly white against a white wall and with dark purple additions, it becomes a bit more challenging.
This project required a full size image of the entire artwork with a six-foot long rug with painted detail, stretched across the floor in front of it towards the viewer. Then some close-up detailed shots were needed of both the rug and the cut-out. As the final set of images were to go to the British Council, accuracy and detail were of course essential but I also wanted to try and capture the drama of the piece as an installation.
Luckily, my studio is quite big and adjoining is a large project space, so by timing the shoot in between exhibitions, I used this space to get the lighting right and give myself enough room to work.
When the artwork arrived in a delivery van and was carried in to the space, I could see it was even bigger than I had anticipated, so some adjustments to lighting angles and positions were needed, along with some creative positioning of reflectors, before shooting could start. My remote controlled Elinchrom lights really came into their own on this occasion.
Once everything was set up however, it didn't take long to get the shots I wanted and this project was great fun to work on.